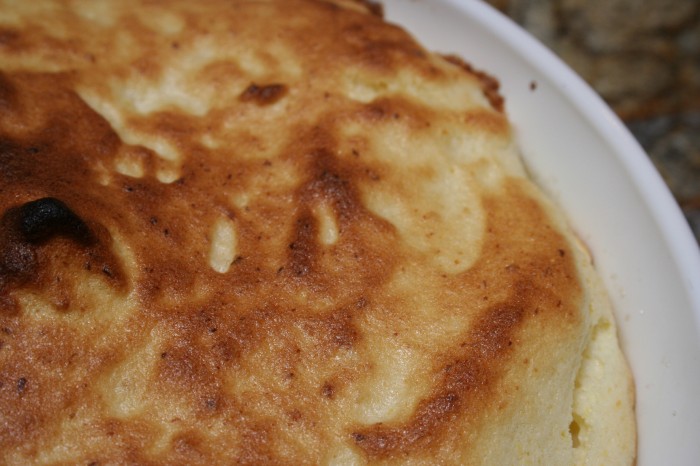 Best served hot. Really. We (five of us today) managed to devour this soufflé (that technically serves eight) straight out of the oven.
Ingredients:
4 tablespoons butter
2/3 cup sugar
1/3 cup lemon juice
4 egg yolks
grated zest of 3 lemons
5 egg whites
powdered sugar for sprinkling

Preparation:
Preheat oven to 425
Heavily butter the 4 cup soufflé mold (or deep glass pan) and coat with sugar
Over simmering water bath make a lemon curd from the butter, lemon juice, egg yolks, lemon zest and 1/3 cup of sugar
Whisk all of these ingredients in bowl over water bath until mixture thickens to consistency of heavy cream
Do NOT let it boil!
Remove from heat
Whip 5 egg yolks
Slowly add 1/3 cup sugar
Beat until stiff and glossy
Fold the 1/4 of the whites into the lemon mixture
Add this mixture to the other 3/4 of the egg whites
Fold them together as lightly as possible
Spoon the mixture into the prepared glass dish
Bake 12-15 minutes until the soufflé is puffed and brown
Sprinkle with  powdered sugar and serve immediately!