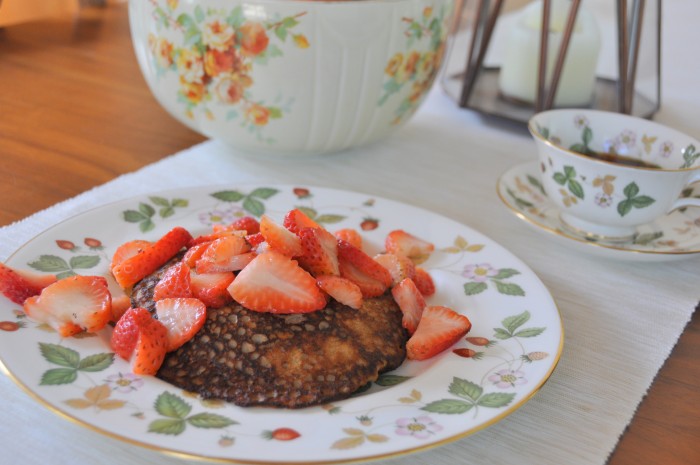 Prep time: 5 mins
Cook time: 5 mins
Tools required: Immersion blender or food processor
Serves 2
Ingredients
2 large bananas
4 medium eggs
1tsp Cinnamon
1/4 tsp powdered ginger (optional)
1/8 tsp vanilla (optional)
Pinch of salt
2 tsp Coconut oil (to grease pan)
Strawberries
Instructions
This is just like making regular pancakes – the only difference is that you'll want to let these get very brown on one side before you flip them because they don't hold together quite as well.
Heat coconut oil in a frying pan.
Using the immersion blender, blend eggs, bananas, spices and salt (I do this in a 2 cup measure for easy pouring and cleanup).
Once you've reached pancake batter consistency, it's time to pour!
You'll get the best results if you keep pancakes on the smaller side – silver dollar pancakes are ideal (and so much easier to flip).
As with regular pancakes, flip when lots of bubbles form all over the uncooked side.
For the strawberry compote, all you need to do is slice ripe strawberries and microwave on high for 30 seconds, until they're hot and juicy.
Spoon liberally over pancakes and enjoy!