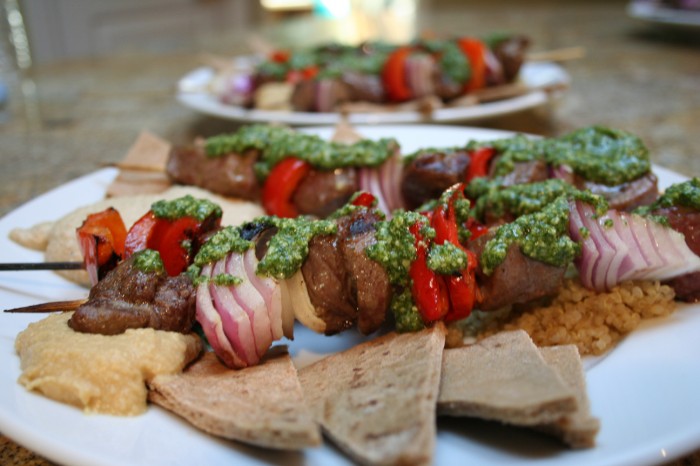 Kebab Ingredients:
1 tablespoon extra-virgin olive oil plus additional for brushing
4 large garlic cloves, minced
2 teaspoons coarse kosher salt
1 1/2 teaspoons coriander seeds, ground in spice mill or in mortar with pestle
2 pounds trimmed boneless leg of lamb, cut into 1 1/4-inch cubes
2 large red bell peppers, cut into 1-inch squares
1 large red onion, cut into 1-inch squares
Mint Pesto Ingredients:
1 cup (packed) fresh mint leaves
1/2 cup (packed) fresh cilantro leaves
2 tablespoons pine nuts
2 tablespoons freshly grated Parmesan cheese
1 tablespoon fresh lemon juice
1 medium garlic clove, peeled
1/2 teaspoon coarse kosher salt
1/2 cup (or more) extra-virgin olive oil
Pesto and Kebab Instructions:
Pesto– Blend everything except olive oil processor into a coarse puree
With processor running, pour in the oil slowly
Puree until almost smooth
Transfer pesto to bowl
Kebabs– Mix olive oil, garlic, coarse salt, and coriander in medium bowl
Add lamb; toss to coat
Cover and chill 2 hours to 4 hours
Prepare barbecue (medium-high heat)
Thread lamb on skewers with peppers and onions.
Drizzle with olive oil; season to taste with salt and pepper
Grill to desired doneness, turning occasionally (7 to 9 minutes for medium-rare)
Serving– Arrange kebabs on serving platter
Drizzle each kebab lightly with pesto
Serve with extra pesto, hummus and flatbread! Enjoy!