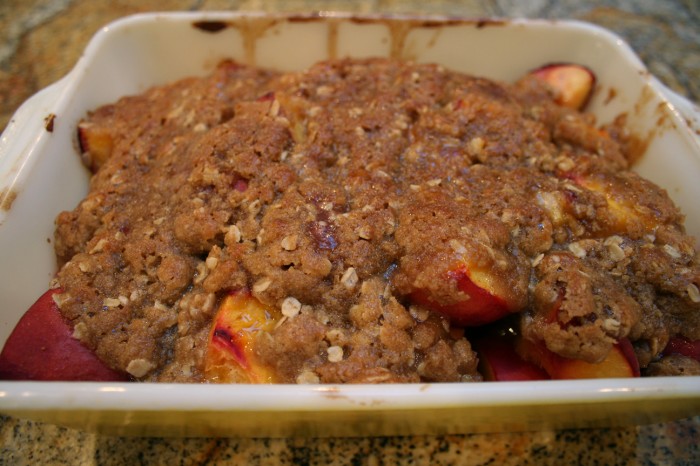 Ingredients:
8 ripe peaches, pitted and chopped into eight sections
Juice of 1 lemon
1/8 teaspoon ground cinnamon
1/8 teaspoon nutmeg
3/4 cup all-purpose flour
3/4 cup firmly packed dark brown sugar
1/4 pound (1 stick) unsalted butter, chilled and cut into thin pieces
1/3 cup quick-cooking oats
Instructions:
Preheat the oven to 375F.
Gently toss the peach wedges in a bowl with the lemon juice, cinnamon and nutmeg
In a small bowl, combine the flour and brown sugar
With a pastry slicer (or two knifes), blend the butter into the flour-sugar mixture until it resembles coarse meal
(As you can see from the pictures ours wasn't really a coarse meal, but it still turned out fine!)
Stir in the oats and sprinkle the mixture on top of the sliced peaches
Bake until the peaches are soft and the topping is brown, about 25 minutes
After the 25 minutes, we ended up broiling it for about 2-3 minutes to get the top nice and brown
Serve warm, alone or with ice cream!