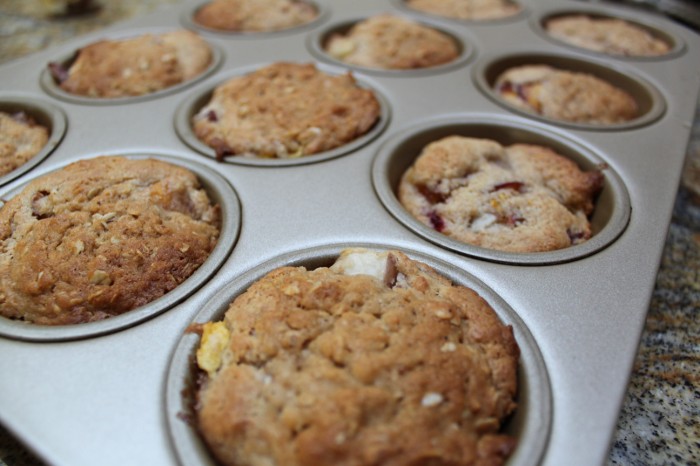 These healthy (sugar-free!!!) muffins passed the ultimate test: I was thinking about them the next day and couldn't wait to have another one with my morning coffee! We got the recipe from the Food for my Family blog (great resource!), which has some great food planning tips and more yummy recipes we can't wait to try!
As usual, we made some modifications of the original recipe based on what we had on-hand and also didn't add the icing.
Muffin Ingredients:
1 egg
1/2 cup coconut oil
1/4 cup raw honey
2/3 cup flour
2/3 cup whole wheat flour
1 teaspoon baking powder
1/2 teaspoon salt
1/4 cup whole milk
1 1/2 cups fresh peaches
Topping Ingredients:
1/4 cup whole wheat flour
2 tablespoons oats
1 tablespoon raw honey
1 tablespoon coconut oil
Instructions:
Preheat oven to 350° F
Grease muffin tin with coconut oil
Beat egg, coconut oil and honey together
In a another bowl mix flours, salt and baking powder
Stir the flour mixture into the egg/coconut/honey mixture
Add in the milk, followed by the peaches
Scoop into the muffin tin
In a small bowl mix together all topping ingredients
Add a bit to each filled muffin cup
Bake at 350° F for 20-25 minutes
Remove from oven and allow to cool slightly before enjoying!