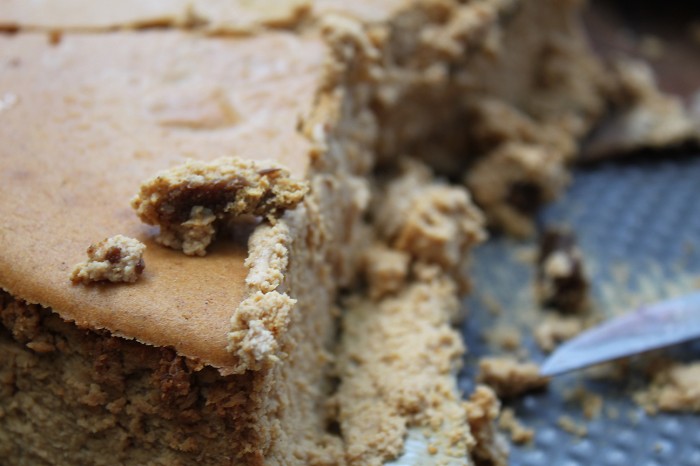 We were so excited to make this cheesecake that we forgot to take pictures when we started! Whoops! The original recipe came from Epicurious–we left some things out, tried the pecan topping but couldn't get it right, so what follows is our version! The cheesecake also got ravaged at the party we took it to before we could snap any respectable pictures. So you're going to have to take our word for it that it turned out beautifully!
Crust Ingredients
2 cups gingersnap cookie crumbs
(we only had one cup of crispy store bought cookies, so we used our soft molasses cookies for the second cup)
1+ teaspoon ground cinnamon
1/2 stick unsalted butter, melted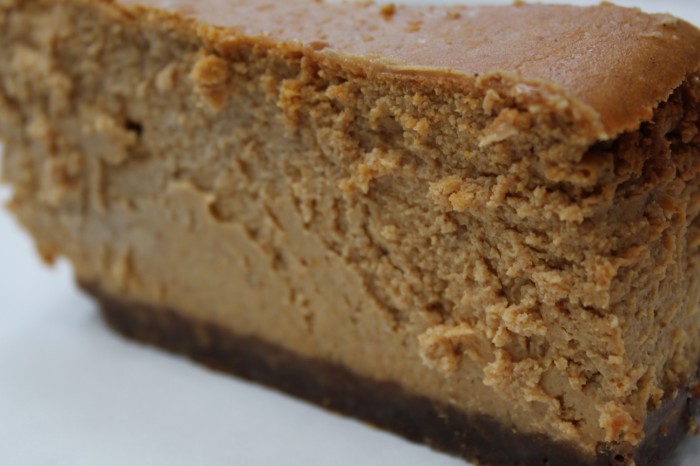 Filling Ingredients
4  8-ounce packages cream cheese, room temperature
1.5 cups sugar or sucanat
3+ tablespoons all purpose flour
1.5+ teaspoons ground cinnamon
1+ teaspoon ground ginger
4 large eggs
1  15-ounce can solid pack pumpkin
2 teaspoons vanilla extract
Crust Instructions
Preheat oven to 325°F
Pulse cookies and cinnamon in quisinart to blend
Add butter; pulse until crumbs
Press onto bottom of 9-inch-diameter springform pan
Bake crust until set, about 8 minutes Let cool while preparing filling
Double-wrap outside of pan with heavy-duty foil
Place in large roasting pan
Filling Instructions
Using electric mixer, beat cream cheese and sugar in large bowl until smooth
Beat in flour and spices
Beat in eggs 1 at a time
Beat in pumpkin and vanilla
Pour into pan with crust
Pour enough hot water into roasting pan to reach 1 inch up sides of springform pan, being careful not to get water into the foil wrapping
Bake cake in water bath until center is just set, about 1 hour 45 minutes
Remove cheesecake from water
Cool in pan on rack
Remove foil
Run small sharp knife between cake and pan sides
Let sit at room temperature for a bit then cover and chill overnight
Pop the side of the springform pan off and add the pecan topping below, if you have the patience! Otherwise, serve and enjoy!
If you're brave try the pecan topping, but we tried  making it three times and burned it three times! Be warned… it's hard to tell when brown sugar is about to burn!
Ingredients:
1/2 cup (packed) golden brown sugar
3 tablespoons unsalted butter
3/4 cup coarsely chopped pecans
Instructions
Preheat oven to 325°F
Line baking sheet with foil
Stir sugar and butter in heavy medium saucepan over medium heat until sugar melts and mixture comes to boil
Boil 1 minute without stirring
Mix in pecans
Spread mixture on prepared baking sheet
Bake until sugar syrup bubbles vigorously, about 8 minutes
Cool praline completely
Break into pieces
(Can be made 1 day ahead, store airtight)