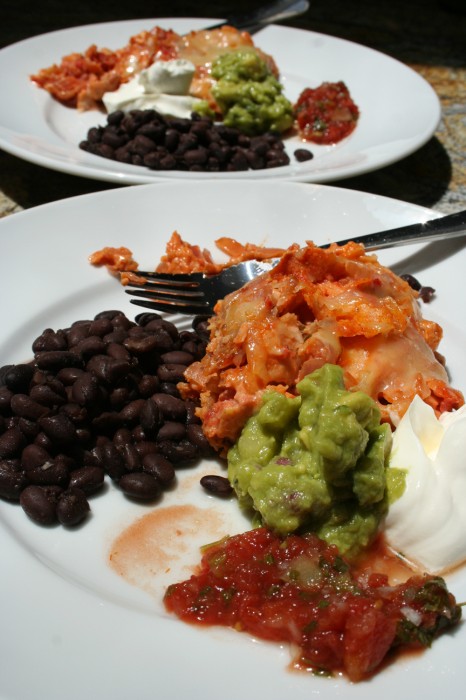 Taken (and only slightly modified) from the Sundays at Moosewood Restaurant cookbook.
We had tried this before, so we doubled the recipe so we would have leftovers!
Ingredients:
1 medium organic onion
1 roasted garlic clove, minced or pressed
3/4 teaspoon dried oregano
3 tablespoons olive oil
jar of organic tomatoes, chopped (you can use fresh, just saute longer)
10 sprouted tortillas
1/2 pint organic heavy cream
1/3 cup grated parmesan
salt and ground pepper to taste
1/2 cups grated organic Monterey Jack cheese
Prep time: 10-15 minutes
Instructions:
Preheat oven to 375 F
Note: We doubled this recipe because we already knew we like it!
Saute onion, garlic & oregano in olive oil for 5 minutes
Stir in tomatoes, allow to simmer while prepping tortillas (next step)
Cut tortillas into 1/2 inch strips
Stir tortillas, cream, parmesan cheese, salt and pepper into tomato mixture
Pour mixture into casserole dish and bake for 30 minutes
Take out after 30 minutes, top with grated Monterey Jack
Return to oven about 5 minutes (until cheese is melted)
Serve with sour cream, salsa & guacamole!