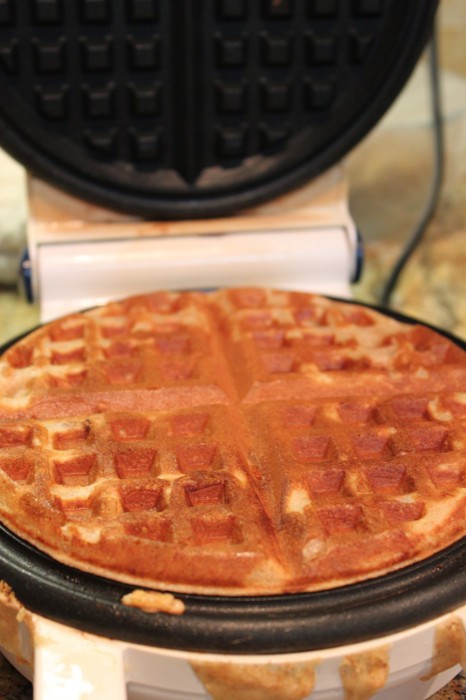 Surprise your sweetie this Valentines day weekend with the only way you can possibly make waffles better… with bacon! And brown sugar!
Adapted from joythebaker.com
Ingredients:
10 slices of bacon
1/2 cup brown sugar
3 cups all-purpose flour
1 Tablespoon baking powder
1 teaspoon baking soda
1 teaspoon salt
2/3 grapeseed oil
4 large eggs
2 teaspoons vanilla extract
2 1/2 cups buttermilk
(we made our own butter milk with 2 cups of milk and 2 tablespoons of apple cider vinegar)
Instructions:
Preheat oven to 375 degrees F
Spray a baking sheet with non stick cooking spray and line with foil
Arrange bacon in a single layer on the baking sheet.
Sprinkle with 1/4 cup brown sugar and place in the upper third of the oven
Bake until sugar is caramelized and bacon is brown and crispy, about 10 to 15 minutes
Immediately remove bacon slices using a pair of tongs
Place them on a cutting board to chop the bacon
Set up your waffle iron on a level, clean surface and turn on to preheat
In a large bowl combine flour, baking powder, baking soda, salt and brown sugar
In a  medium bowl, whisk together eggs, oil, buttermilk and vanilla extract
Add the wet ingredients to the dry ingredients and fold
Once almost fully incorporated, add the bacon bites
Stir, try not to over mix the batter or the waffles will become tough.
It's ok if a few lumps remain in the batter
Cook according to your waffle machine instructions
Serve with maple syrup, preserves or fruit and eggs!