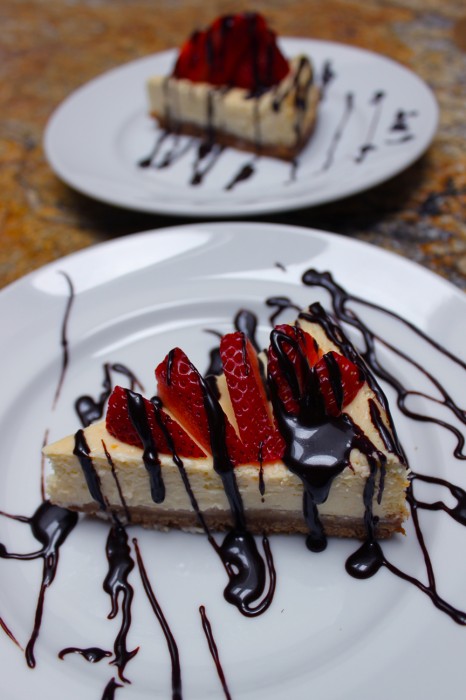 We've been super obsessed with lemons recently, so Tami made up this fresh dessert! Top with strawberries and chocolate sauce for an uber-decedant treat! Cut back on the amount of lemon juice for a more subtle flavor!
Crust Ingredients:
2 (generous) cups graham cracker crumbs
1 stick melted butter
1 tablespoon lemon zest
1 tablespoon sugar
1 teaspoon salt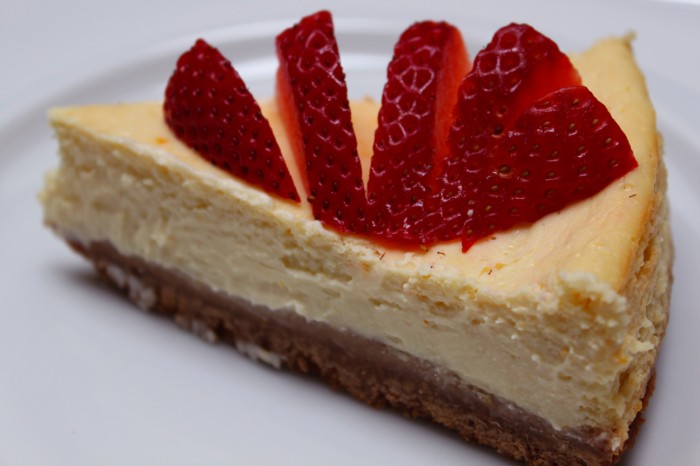 Cheesecake Ingredients:
16 ounces cream cheese
2 large eggs
1 cup sour cream
2 tablespoons lemon zest
6 tablespoons lemon juice
Instructions:
Use the  food processor to turn your graham crackers into a powder
Blend in the lemon zest, sugar and salt
Add the melted butter, blend until all moist
Dump graham cracker mixture into your spring-form pan (we lined ours with parchment paper)
Bake at 350 for ~15 minutes
Blend the cream cheese in the food processor until smooth
Blend in the eggs, sour cream and lemon zest
Add lemon juice to taste
Pour mixture into springform pan, with baked crust
Bake at 325 for at least 30 minutes
(up to 1 hour depending on the diameter and thickness of your cheesecake!)
Let cool completely
Top with any variety of fresh fruit, chocolate and whipped cream!