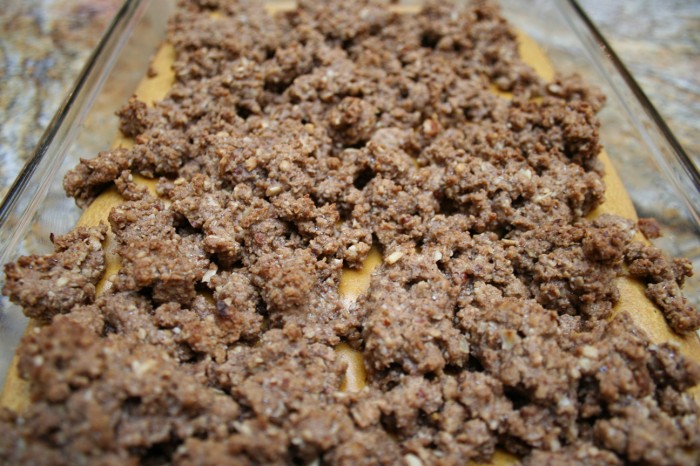 Found on Epicurious, but we modified how the crust was prepped. These were a HUGE hit at the party we took them to!
Ingredients:
Crust:
1 cup flour (we used wheat pastry flour)
3/4 cup (packed) golden brown sugar
1/2 teaspoon salt
1/2 cup (1 stick) chilled unsalted butter, diced
1 cup pecan halves (about 4 ounces)
3/4 cup old-fashioned oats
Filling:
1 (8-ounce) package cream cheese, room temperature
3/4 cup canned pure pumpkin
1/2 cup sugar
1 large egg
1 1/2 teaspoons ground cinnamon
1 teaspoon ground ginger
Topping:
1 cup sour cream (we didn't have enough sour cream, but it still came out great!)
2 tablespoons sugar
1/4 teaspoon vanilla extract
Prep the Crust:
Preheat oven to 350°F
Generously butter 9x9x2-inch metal baking pan
Blend first flour, brown sugar, salt and butter in processor until coarse meal forms
Add pecans; blend until nuts are chopped
Add oats; blend until mixture is moistened but not clumping
Press 3 1/2 cups crumbs onto bottom of prepared square pan (do not clean processor)
Transfer remaining crumbs to lined baking sheet
Bake crumbs on sheet until golden, stirring once, about 12 minutes
Cool crumbs
Bake crust until golden, about 30 minutes
Remove from oven while preparing filling
Maintain oven temperature

Prep the Filing:
Blend all ingredients in food processor until smooth
Spread filling over warm crust
Bake until set, dry in center, and beginning to rise at edges, about 20 minutes
Maintain oven temperature
Prep the Topping:
Mix all ingredients (sour cream, sugar, vanilla extract and baked crumbs) in a bowl
Spread evenly over hot filling
Bake until topping sets, about 5-10 minutes
Cool completely in pan on rack
Cover; chill until cold, about 2 hours.
Do ahead! Can be made 2 days ahead. Keep chilled.