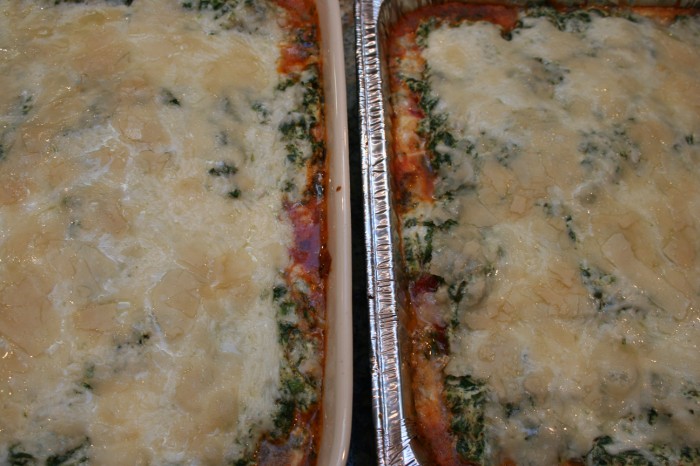 Ingredients:
30 ounces ricotta cheese (about 4 cups)
one package frozen chopped spinach
4 cups prepared pasta sauce
Twelve 7 by 3 ½ inch dry no-boil lasagna pasta
10 ounces mozzarella, grated (about 2 ½ cups)
1 ¼ cups fresh grated parmesan (about 5 ounces)
1 cup basil pesto
Preparation:
Preheat the oven to 375 degrees F.
Defrost the spinach and squeeze out the excess water.
Mix the ricotta cheese, pesto, and spinach together in a bowl.
Spread 1 cup pasta sauce into 9×13 baking dish.
Lay down three lasagna noodles making sure they don't touch.
Drop about ¼ of the ricotta mixture on top of the noodles and spread out evenly.
Sprinkle ¼ of each of the parmesan and mozzarella cheese on top of this.
Make three more layers like this, starting with the tomato sauce and ending with the cheese.
Cover dish tightly with foil, tenting slightly to prevent foil from touching top layer (the foil will stick to the cheese and will react with the acid in the tomato sauce).
Bake in the middle of the oven for 30 minutes.
Remove foil and bake for another 10 minutes more, or until top is bubbling.
Let stand for five minutes before serving.
Serves 8 as a main course.