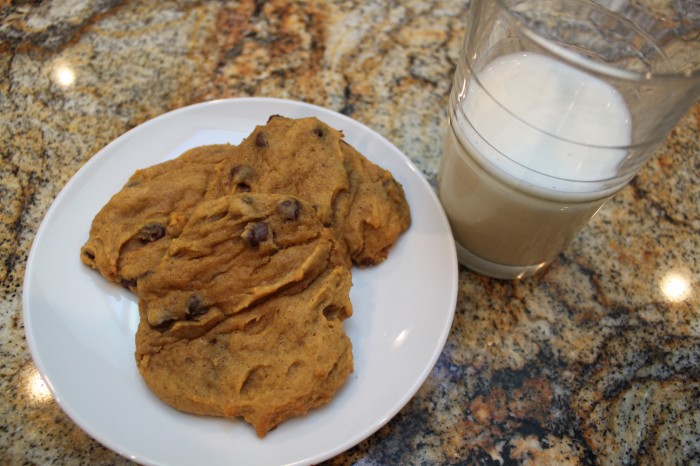 There are a couple options when making these cookies… you can make them the healthy way or the good way! We're all for healthy desserts, but this time the healthy option just doesn't measure up to the white flour and sugar version! We made them with sucanat & whole wheat flour and then sugar & white flour. There was no contest. The sugar & white flour version has a much smoother consistency, though if you were only presented with the sucanat and whole wheat flour version you probably wouldn't complain… they just can't hold their own in a comparison.
Two warnings:
#1 These cookies are super addicting!
#2 We've made these cookies without the chocolate chips and had friends ask why we wasted our time not putting chocolate chips in!
Ingredients:
1/2 cup butter
1 1/2 cup sugar OR sucanat
1 egg
1 cup canned pumpkin
1 tsp vanilla
2 1/2 cup flour OR whole wheat pastry flour OR a mixture of the two
1 teaspoon baking powder
1 teaspoon baking soda
1 teaspoon nutmeg
1 teaspoon cinnamon
1 cup+ Ghiradelli chocolate chips (optional)
Instructions:
Cream butter and sugar together
Beat in egg, pumpkin and vanilla
Mix together flour, baking soda, baking powder, nutmeg and cinnamon
Add to creamed mixture.
Add chocolate chips last
Drop by teaspoon full on a well-greased cookie sheet or silicone mat
Bake at 350˚ for 15 min