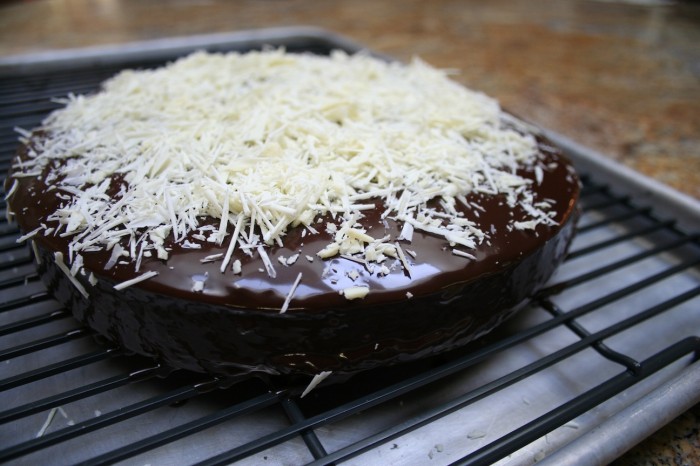 We saw this on-line and couldn't pass it up… it's the winner of the Ghirardelli Chocolate Is Your Dessert Intense Enough? contest! Enough said! We also liked the simplicity of ingredients… literally chocolate, butter, eggs and heavy cream. While there are very few ingredients, it is fairly time intensive, so plan accordingly. We made the cake on a Wednesday and froze it until Friday when we pulled it out around noon. We whipped up the ganache frosting around 3:00, frosted the chilled cake and it was perfect when it was cut around 9:00 that night!
Active time: 30 minutes Baking time: 40 minutes Freezer time: overnight
Cake Ingredients:
3 cups Ghirardelli Semi-Sweet Chocolate Chips
1 cup unsalted butter at room temperature
8 large eggs, chilled
1/4 teaspoon salt
Ganache Frosting Ingredients:
1/2 cup heavy cream
1 cup Ghirardelli Milk Chocolate Chips
2 ounces Ghirardelli White Chocolate baking bar, chilled
Cake Instructions:
Preheat oven to 325F, with rack in center of oven
Generously butter the bottom and sides of a 9 by 2-inch round cake pan
Line the bottom with parchment paper
Prepare a barely simmering double boiler
Melt the semi-sweet chocolate chips and butter together until smooth
Let cool slightly
While cooling, whip the eggs and salt on medium speed until doubled in volume, about 5 minutes
Gently fold the whipped eggs, a third at a time, into the melted chocolate
Stir slowly and gently until batter is completely smooth
Pour the batter into the prepared cake pan
Prepare a water bath for the cake–
Place the cake pan in a larger pan, and fill the large pan halfway up the sides of the cake pan with hot water
Bake for about 40 minutes (until cake pulls away from the sides of the pan and is set in center)
Remove the pan from the water bath to a cooling rack, and cool the cake completely in the pan
Remove from pan by gently inverting onto plastic wrap
Double wrap with plastic wrap and refrigerate (or freeze) overnight
(Keep the cake nice and flat by using a small cutting board to transport from work station into freezer)

Ganache Frosting Instructions:
Bring the heavy cream to a simmer in a small saucepan over low heat
Pour the heated cream over the milk chocolate chips
Stir gently until smooth
If this doesn't melt the chocolate chips completely, warm over double boiler until smooth
Allow to cool until ganache thickens slightly
When ganache is barely warm to the touch, pour over the top of cake
We used a cookie cooling rack in a cookie sheet to catch all the extra ganache and make clean up easier!
To garnish, grate the white chocolate bar on top of cake