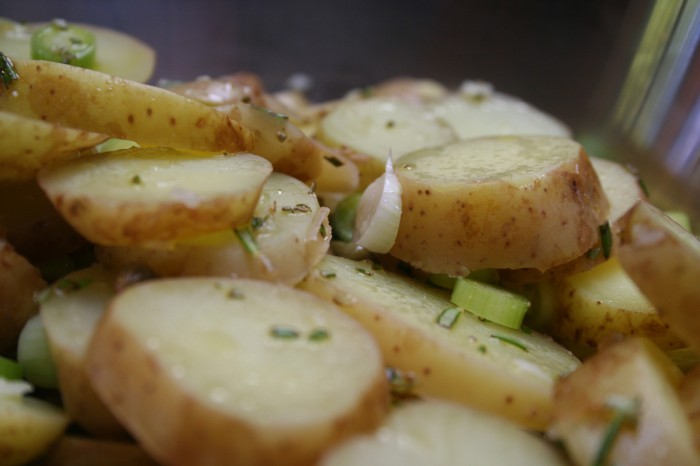 Some of us really like potato salad, in all it's many variations. Basically if it has potatoes, it must be good.
But some of us aren't big fans of mayo, so when a potato salad must be made, we like this lighter, Mediterranean version!
Prep time: 10-15 mins Cook time: 10 mins
ingredients:
2 1/2 pounds red-skinned potatoes, unpeeled, cut into 1/4-inch-thick rounds
6 tablespoons olive oil (preferably extra-virgin)
1/4 cup fresh lemon juice
2 tablespoons drained capers
1 tablespoon chopped fresh rosemary
1 1/2 teaspoons minced garlic
8 tablespoons sliced green onions
instructions:
Cook potato rounds in boiling salted water until just tender (about 10 minutes)
Drain. Cool potatoes while preparing the dressing.
Whisk oil, lemon juice, capers, rosemary and garlic in medium bowl to blend.
Season with salt and pepper.
Layer potatoes and dressing, top with onions.
(Can be made 6 hours ahead. Cover and chill. Let stand at room temperature 30 minutes before serving.)