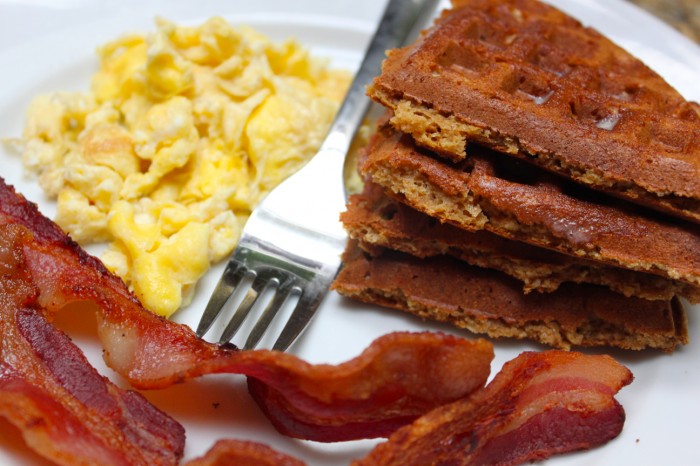 Ingredients:
1 1/4 cups all-purpose flour
1 cup whole-wheat flour
2 tablespoon baking powder
1 teaspoon ground cinnamon
1/2 teaspoon freshly grated nutmeg
1/4 cup plus 1 1/2 teaspoons grapeseed oil
3 tablespoons honey
5 large eggs
2 cups milk, plus more as needed
1 1/2 teaspoons pure vanilla extract
1 tablespoon molasses
Instructions:
Preheat waffle iron.
Mix together both flours, baking powder, cinnamon, and nutmeg; set aside.
In a large bowl, whisk together oil and honey
Add eggs, milk, vanilla, and molasses; whisk well to combine
Add flour mixture and stir to combine; mixture should be easily pourable, but not too thick
If mixture seems too thick, add a little more milk
Pour 1/2 cup batter into waffle iron
Cook until golden brown, about 1 1/2 minutes.
Carefully remove waffle from iron and serve immediately… yum!