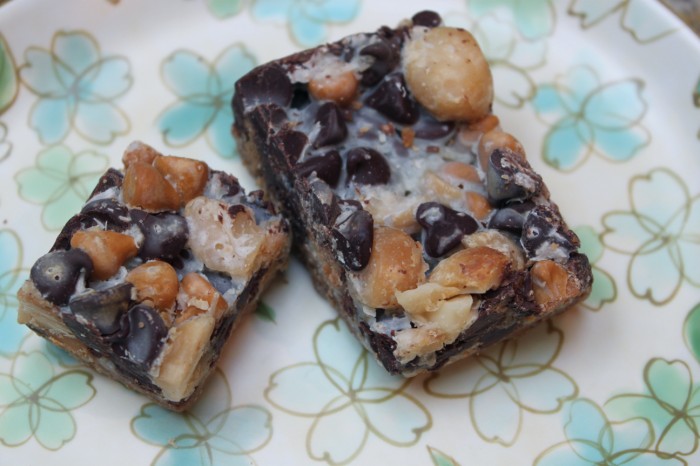 While we were in Kauai we overdosed on these Killer Bars that we would buy at Banana Joe's almost everyday. Once we got back we made them for a baby shower. They're actually made by Country Moon Rising Bakery, but we found a recipe that we used as a starting point on planetgreen.com.
Ingredients:
1 stick butter
1 package of graham cracker crumbs (equals about 2 cups)
1.5 cups organic chocolate chips
1/2 cup butterscotch chips
1 cup shredded coconut
1 cup macadamia nuts, chopped
15 oz sweetened condensed milk
Instructions:
Pour melted butter in 9 x 13 inch pan
(or a cookie sheet if you're doubling the recipe)
Press graham crackers in pan on top of butter until combined
Bake graham cracker crust 20 minutes @ 350F
Sprinkle shredded coconut on the warm graham crackers
Pour the combined chocolate chips & butterscotch
Add macadamia nuts
Pour sweetened condensed milk on top
Sprinkle some more coconut on top
Bake at 350 degrees for 25 to 30 minutes
Cool completely, cut into bars
Enjoy!