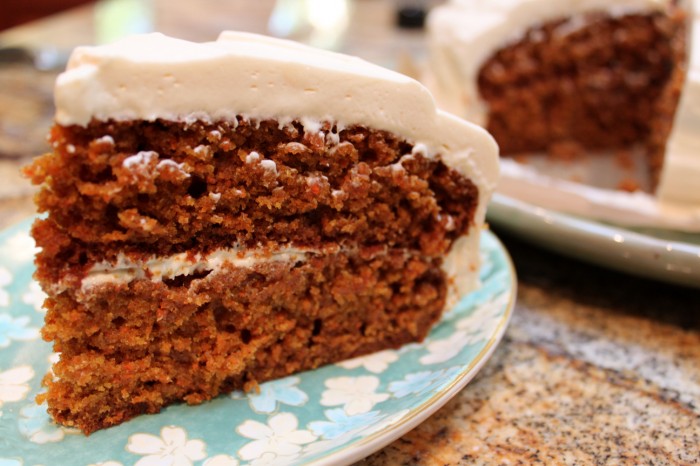 We're determined to make desserts that taste good and are good for you (well okay… desserts that at least aren't horrible for you and don't have processed sugar!). The original recipe came from Epicurious, but we made a decent amount of changes to get it sugar-free and we also substituted coconut oil for canola oil, since coconut oil is more beneficial.
Carrot Cake Ingredients:
1/3 cup dried shredded organic unsweetened coconut
3 cups (a little less than a 1 pound) organic farm-fresh carrots, shredded
1 cup agave nectar
1 1/2 cups organic all-purpose flour
1/2 cup organic whole wheat pastry flour
2 teaspoons baking soda
3 teaspoons organic ground cinnamon
1 teaspoon freshly grated organic nutmeg
1 teaspoon salt
1/2 cup sucanat
3/4 cup organic coconut oil
1 tablespoon organic vanilla extract
3 organic eggs
Carrot Cake Instructions:
Preheat regular oven to 350°F or convection oven to 325°F
Butter and flour two 8-inch round cake pans and line bottoms with parchment paper
Alternatively, place liners in 2 muffin pans for 24 cupcakes
Add just enough warm water to the dried coconut to cover it and let it sit for 10-15 minutes
Grate your carrots, then place them in the food processor and pulse with the agave nectar until pureed
In a large bowl, sift together the dry ingredients (both flours, baking soda, spices and sucanat)
Place the coconut, coconut oil, vanilla extract, eggs, and carrot-agave mixture in a bowl; whisk to combine
Add the wet ingredients to the dry, mixing with a rubber spatula–do not overmix.
Pour the batter into the prepared pans
Bake for 55 minutes in regular oven or 30 minutes in convection oven
Tops should be golden brown and a toothpick inserted in the center should come out clean
For cupcakes, the baking time is 35 to 40 minutes in regular or about 20 in convection oven
Let cakes cool in the pans for 10 minutes
Invert them onto a wire rack and let them cool completely
Fill and frost the cake with the Cream Cheese-Lemon Zest Frosting (see below)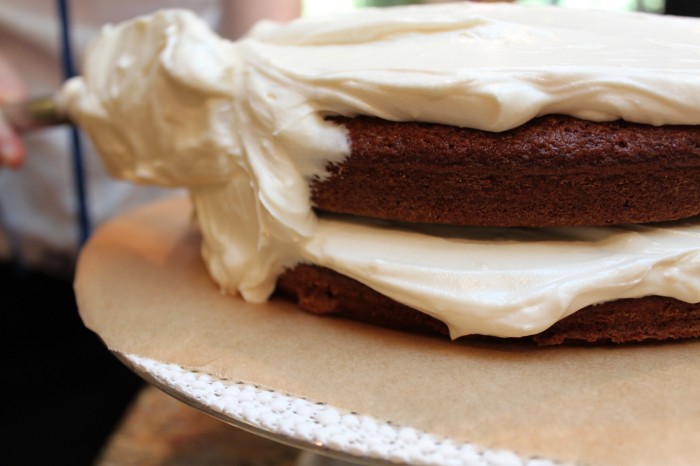 Cream Cheese – Lemon Zest Frosting Ingredients:
Three 8-ounce packages organic cream cheese, softened
2 sticks (1 cup) organic unsalted butter, softened
1 teaspoon grated organic lemon zest
1 1/2 tablespoons fresh organic lemon juice
1 tablespoon organic vanilla extract
2 teaspoons Stevia
Cream Cheese – Lemon Zest Frosting Instructions:
In mixer with the whisk attachment, whip the cream cheese and butter on medium-high speed until airy (about 2 minutes)
Mix in the lemon zest, lemon juice, and vanilla
Mix in the Stevia
Refrigerate for 10-15 minutes if the frosting seems too soft to spread
Use spatula to spread over the cooled cake!
Tip: a dallop of frosting on your plate or work surface keeps the first layer of your cake from sliding around while you frost it!