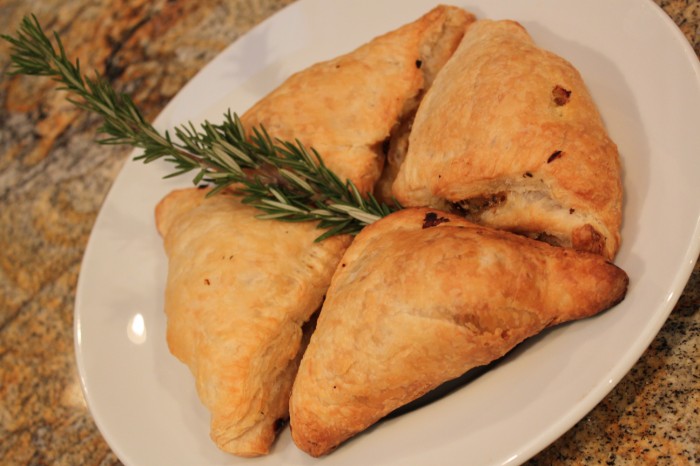 Another amazing recipe from the Esalen Cookbook! Savor this with minestrone soup or a greek salad! If you can't find fresh herbs, you can use dried but make sure to reduce the quantities by half!
Ingredients:
1/4 cup sun dried tomatoes (either the type in olive oil pat dry, or the totally dry type)
1 medium onion
2 bell peppers
1 medium zucchini
olive oil
2 tablespoons chopped fresh basil
2 teaspoons chopped fresh thyme
2 teaspoons chopped fresh rosemary
2 teaspoons chopped fresh oregano
2 teaspoons chopped fresh sage
2.5 cups grated parmesan cheese
1-2 boxes of puff pastry (we had enough filling for 12 turnovers)

Instructions:
Either soak up the olive oil from your sun dried tomatoes or hydrate in water until tender
Chop tomatoes into think strips
Chop remaining vegetables into 1 inch cubes or smaller (but all the same)
Saute olive oil and onion for two minutes
Add bell peppers and sun dried tomatoes, cook 1 minute more
If watery pour mixture into colander and drain, otherwise set aside
Mix in the herbs and grated cheese
Spoon this mixture into one half of your pastry squares
Leave at least 1/2 inch border
Fold the puff pastry over to create a triangle
Use water to, if needed, and fork to press edges together
Place all your turnovers on a parchment lined cookie sheet
Bake 350F for 25 minutes, or until golden brown
(don't let them go to long otherwise the bottoms will burn!)
Enjoy with soup or salad!