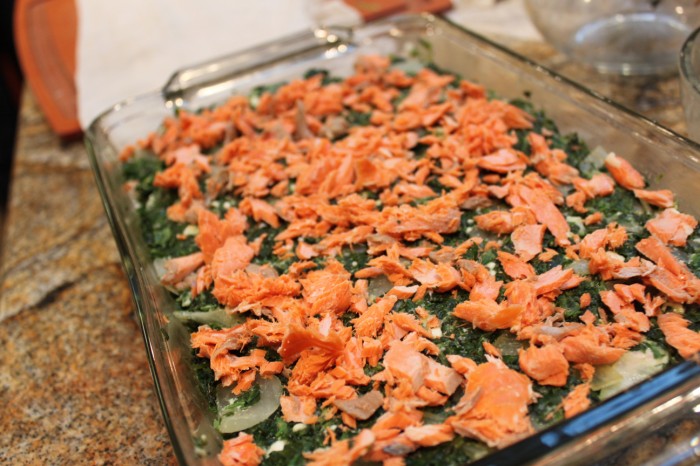 Another Esalen success! This recipe turned out so well we literally sat around the table talking about how good it was, while we were eating it. Yeah. It's that good! (Thanks for taking pictures Laurie!)
Ingredients:
1 medium onion, diced
2 tablespoons olive oil
2 pounds fresh spinach (or 2 frozen packages) stemmed and chopped
1 1/2 cups crumbled feta
1/2 cup ricotta cheese
2 teaspoons minced garlic
2 eggs
1 teaspoon chopped fresh dill
1/4 cayenne pepper
2 teaspoons sea salt
1/2 bunch parsley, finely chopped
1/2 pound filo dough
1/2 cup melted butter
1/2 pound smoked salmon
Instructions:
Saute onions in olive oil for 4 minutes, or until onions are translucent
Add spinach and cook, stirring constantly until tender
*If you use frozen spinach be sure to defrost and squeeze out excess water
In a separate bowl mix feta, garlic, ricotta, eggs, dill, cayenne, salt and parsley
Add the spinach mixture
Brush the bottom and sides of a 9 x 9-inch baking dish with melted butter
Cut the filo sheets to fit the dish
Lay one sheet on the bottom, brush with melted butter
Repeat with four additional sheets
Using a spatula, spread a 1/2 inch layer of the spinach mixture evenly over the dough
Cover with a thin layer of spinach
Continue this process until you run out of spinach mixture
End with a filo layer and lots of butter!
Bake in a preheated oven at 350 for 45 minutes or until the top is golden brown
Cut into squares and serve warm!